Welcome to Mountain Mobile Massage in beautiful Big Bear Lake! We have an excellent reputation as the best massage in Big Bear, California, for over 22 years! Big Bear Massage, also known as Mountain Mobile Massage & Spa has amazing, experienced, licensed massage therapists who love what they do (and it shows in our hundreds of 5-star reviews). Contact us to schedule your session or if you have questions! If you are looking to schedule a "same day" appointment, please call us directly to check if we have last minute times available. We look forward to speaking with you! Or, feel free to text!
We love what we do—Check out out 300+ 5-STAR reviews James T.
Playa Del Rey
That was the best massage I've ever had... and we have been getting regular massage for years, their Wellness Center location was super relaxing! Natalie O
Los Angeles
Took care of my sore neck so I was able to fully enjoy my vacation, what a find! " Maria & Jose G.
Las Vegas
Mobile massage is amazing, we're hooked! We're coming back to Big Bear Lake just to get another massage.
Safe Guidelines
Following all local and state guidelines
Mountain Mobile Massage has been working hard to bring a safe experience of healing, relaxation and rejuvenation to our clients in accordance to the guidelines issued by our local and state health officials and authorities. We have adopted even stricter hygiene and sanitation protocols in every area of our practice to ensure your safety. Here are some ways we have enhanced our efforts to provide the healthiest experience:
Helping our clients live their best life!
Whether you're a Big Bear local or visitor, we have your ticket to relaxation! Our male or female massage therapists have rave reviews because we love what we do….help our clients live their best life! Massage can assist in reducing pain, improving sleep, increasing energy and most importantly boost your immune system! According to a 2010 study, receiving regular massages not only helped to steady immune system function in every participant, but it reduced stress levels and improved their quality of life. 
We have all your massage needs covered, our therapists bring the massage to you at your rental cabin, home, hotel room, special event and more. Enjoy your massage featuring our many bodywork and massage styles: relaxing Swedish massage, pain reducing Deep Tissue massage, stress-reducing Trigger Point therapy, corrective Sports massage, hot stone, shiatsu, pre-natal or reflexology for hands/feet— customized to perfection just for you. For same day or last minute appointments, you'll reach us much faster if you send a text.
Show Your Love – Gift Certificates are perfect for family, friends or staff! Our menu includes wonderful add-ons including over 15 different scents of essentials oils/blends, 7 choices of body butters, Hot Stones, facial or scalp massage, reflexology and more! When you schedule a "mobile massage/ in-home/ hotel massage," we bring your massage to you, so you can relax in your own comfortable surroundings, on your own terms. No having to deal with driving, parking or crowds. Talk about the ultimate convenience!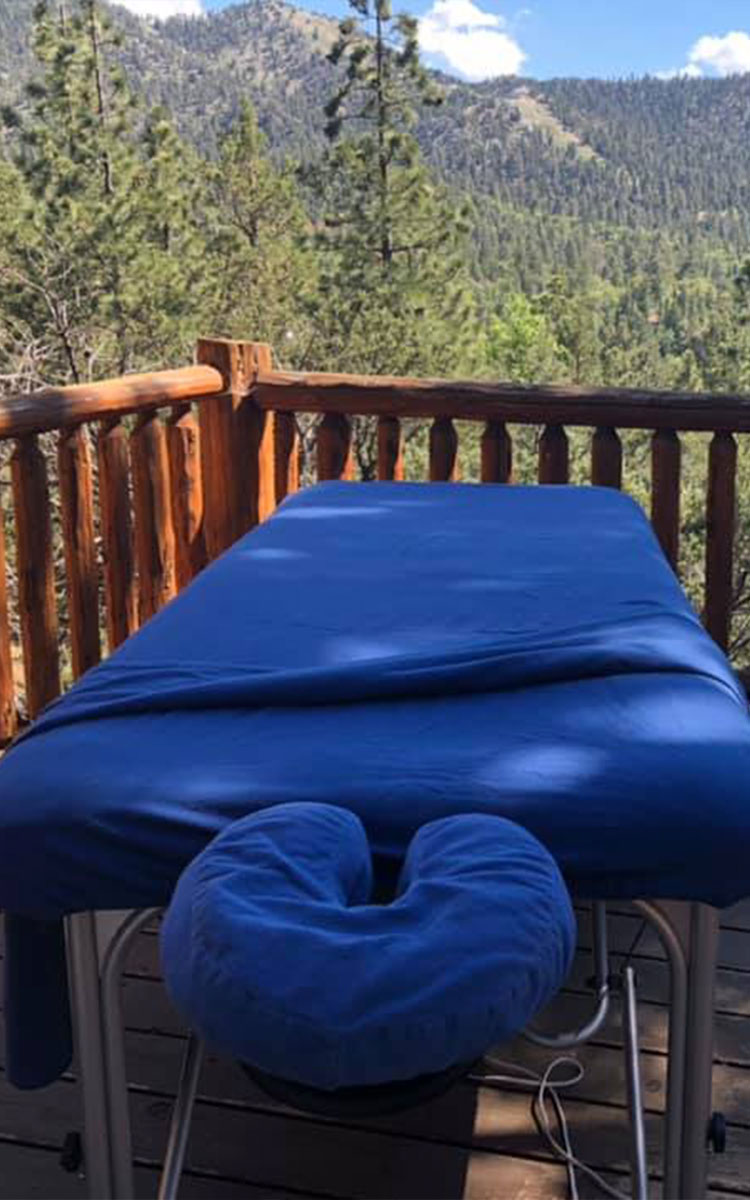 By appointment only, to schedule please call
For same day or last minute appointments, you'll reach us much faster if you send a text. We cannot guarantee last-minute availability. We recommend calling ahead for the best appointment times!
As our clients say, "No trip to Big Bear Lake is complete without getting a massage from Mountain Mobile Massage & Spa"! Whether this is your 1st massage or your 100th, we love what we do and our clients recognize the attention to detail in all our services. From first-timers to Olympian athletes, from weekend warriors to celebrities…we have helped them achieve their massage therapy goals, just like we can for you.